Our Ideas
Consulting Concept and Style
Consulting Concept: Comprehensive Reforming Approach
We review our client company's strategy and business system concurrently, and, subsequently, reform them all together. To guide the reforming process successfully, it is necessary to present a comprehensive plan which includes objective (what), direction (where) and method (how) of reforming, as well as the reason (why) for it. The strategy must be intertwined with various functions of our client's business system (organization, operation, HRM, and Information System).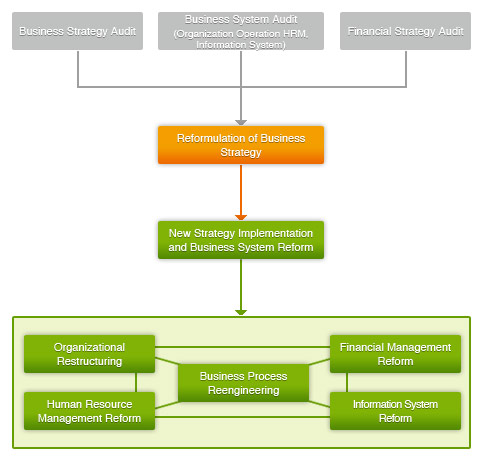 Consulting Style: Project Stages
Our "Comprehensive Reform Approach" entails a long-term, persistent implementation of strategy. Thus, the same team will support our client from the first phase (advises on strategy) to the very last phase (implementation of strategy).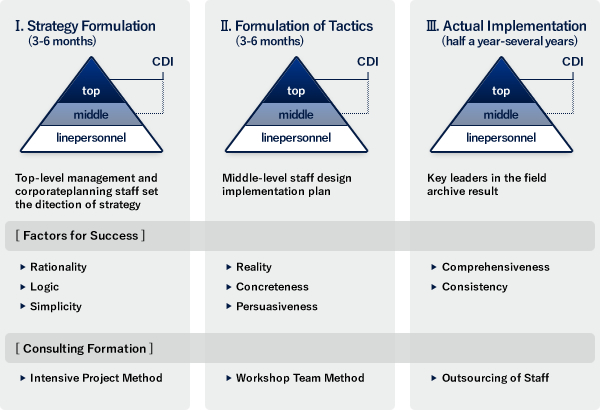 Consulting Formation
To implement real change to our clients, We developed various consulting formations in our over-30-year experiences. We adjust and deliver the most appropriate consulting formation to our client flexibly.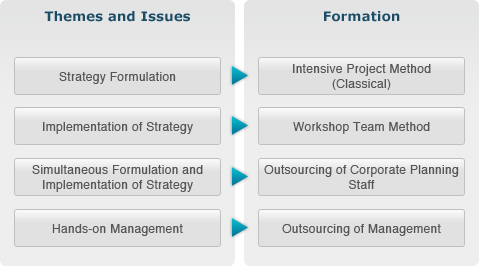 About CDI
Our profiles and management team
Our Ideas
Our value proposition, consulting concepts and styles
Expertise and Services
Industry, Functions, and Service areas